Voyage: Excursion & Extended Noorden Evening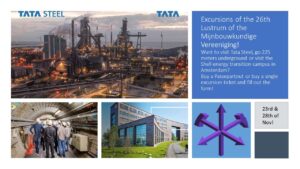 The excursions will have different departure times, which will be specified
There will be three excursions:
On the 23rd of November we will go to
1. Euridice in Belgium: A company that researches technologies for underground disposal of radioactive waste. You will go 225 meter underground. (10:30 until 20:00).
2. Shell Energy Transition Campus Amsterdam (ETCA):  ETCA is one of the three most important research locations for Shell worldwide. New ideas, technology and decades of experience come together here to meet the energy needs of today and tomorrow. (09:45 until 17:45).
On the 28th of November we will go to:
3. Tata Steel: World Leader in Sustainable Steel. Innovating for tomorrow, making a positive impact today. (08:30 until 13:30).
You can attend the excursions by buying a Passpartour or by buying a separate ticket.
The will be hosted by NoCo in our lovely Cafe Het Noorden.